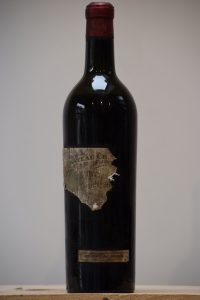 Price shown per bottle (75cl).
1 remaining. No minimum purchase
Venerable.  Highly rated by Parker but less so by some others.  Still going strong though.
Wine Cellar Insider notes from 2016: "The color of rose hip tea, the wine is sublime for 82 years of age. Elegant, soft and fragrant, the red berry fruits alternate from sweet to tart, while the silky, soft textures really grab your focus."
Levels good.  Labels bad.  The last of our '34s.