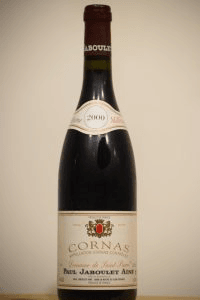 Camping with small children is fairly torturous. After a week in a frequently rain soaked campsite in Brittany we were in dire need of some vestige of relaxation.
A brief trip into the local town gave us the chance to investigate the local wine merchants and we emerged (after the only 5 minutes the children would allow us) with an assortment of bottles chosen in haste. That evening we waited until the children had collapsed from exhaustion in their sleeping bags and set about making the only supper one can make on a tiny camping stove: pasta and a simple salad. The wine was inspected only to discover that in our moment of haste we had in fact purchased a 2005 Paul Jaboulet St Pierre Cornas. The moment of relaxation had finally arrived – the dull pasta suddenly sprang to life by the light of the camping lantern at the first sip of spicy, heady Cornas. A wine full of verve and elegance made all the better by the (less elegant) al fresco dinning setting. I would like to say that we sipped the wine slowly and savoured every drop but quaffing with gusto is probably a more accurate description.

I'm a firm fan of Cornas, particularly Paul Jaboulet's St Pierre, so I haven't been completely surprised by its increased popularity. Its resulting price increase was a little disappointing but inevitable so we shan't dwell too much on what a bargain some of them used to be.
Cornas, in the Northern Rhône, is a small appellation that produces red wine made from Syrah. So far in its description it sounds an awful lot like Hermitage or Côte Rôtie but its wines are very different. They are brooding and dark with a powerful flavour that is pure Syrah. They don't have the softness or finesse that Hermitage and Côte Rôtie are known for but they can be elegant. With the right amount of age the fruit is full of blackcurrant and blackberries but with that lovely black pepper kick that lingers on the palate and encourages the lip smacking quaffing I mentioned earlier.

However, this description is true to those wines produced post 2000. Prior to this Cornas had a tendency to be dried out and lacking in fruit. It was a wine that needed plenty of bottle age but couldn't keep the freshness it so desperately needed. A change occurred though and production of Cornas headed towards a more modern fruit driven style that did it the world of good. The arrival of the next generation of winemakers is partly to thank for this change; they recognised the need for a finer balance and a wine that could be approached younger. There has also been a change in climate with the warmer weather bringing earlier ripening but also earlier picking making balance more achievable.

Some will argue that certain producers always made top quality Cornas even before 2000 but personally I wouldn't take the risk on a bottle. We have also seen some spectacular vintages in the last two decades so there is little need to look for anything prior to this. 2001, 2005, 2009, 2010 all great years that will be drinking well now.

I wouldn't necessarily recommend our camping trip but I would happily encourage you to try Cornas. We have some of the afore mentioned 2005 Paul Jaboulet St Pierre Cornas but also a number of others that are great examples of the Cornas style that offer value as well.
2005 Delas Freres Cornas Chante Perdrix £29 per bottle
Delas Freres suffered a poor reputation up until it was overhauled in the late 90's after being bought by the Roderer group. Better known perhaps for their Hermitage and Côte Rôtie the Cornas gets unfairly overlooked but does wonders for its value. A long lasting wine the 2005 vintage wasn't shy and will therefore be good drinking now it's a little older.
2010 Domaine Vincent Paris Granit 30 Cornas £35 per bottle
One of the new generation of producers that emerged at the turn of the 21stCentury Vincent Paris reputation is of quality but also one of freshness and balance. The Granit 30 is classified as the 'junior' wine in his range and is lighter and zestier than others. At 10 years old you would want to drink this up quickly.
2005 Paul Jaboulet Aine Domaine de Saint Pierre Cornas £50 per bottle
2009 Paul Jaboulet Aine Domaine de Saint Pierre Cornas £50 per bottle
The infamous Cornas from two bumper years. Both are drinking well now but the 2009 will have a longer life.
2006 Domaine Courbis La Sabarotte Cornas £47 per bottle
2015 Domaine Courbis Les Eygats Cornas £90 per bottle
Courbis have been producing wines for many a century but the two brothers now in charge are responsible for the current reputation for modern winemaking and well balanced Cornas. They focus on single estate productions and the classic Syrah notes one expects in a Cornas are all there.
The 2006 La Sabarotte is definitely to be drunk over the next year and is a rich, brooding Cornas. The 2015 Les Eygats has all the positive qualities of La Sabarotte but with an elegance that makes it really stand out. It will need another few years in bottle but is worth the wait.