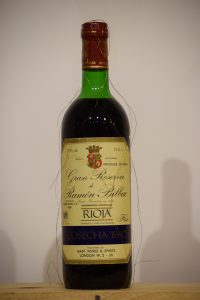 Price shown per bottle (75cl).
12 remaining. No minimum purchase
A long standing producer in Rioja, Ramon Bilbao was also, supposedly, a pioneer in wine ageing in the region. Given these credentials a 30 year old bottle of their Gran Reserva from a good year shouldn't disappoint.
Price shown per bottle (75cl).
6 remaining. No minimum purchase
1982 was a good year across the whole of Western Europe and Spain was no exception.  This wine is a little thinner and more spirity than we'd ideally like but it's reasonable value for a decent aged Gran Reserva.
(28th May 2019) Minor update.  We had one of these with dinner last night with rate fillet steak (with brandy and cream sauce) and the wine went absolutely perfectly.  The brandy and the spirity taste from the wine blended together and this exposed the beautifully blended fruits to match the steak.  A highly recommended combination.