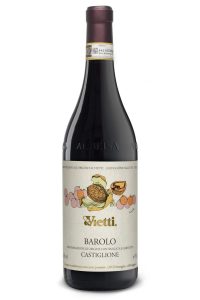 We have never been ones for whimsical change so this year has started like many others: no new year resolutions, just a gentle reminder that our preference for mature vintages is a sensible one.
Below is a selection of red wines with a good amount of age behind them that will keep things interesting in an otherwise quiet month.
2013 Vietti Castiglione Barolo £52 per bottle 
Barolo is not a wine to be drunk young. The dry, tannic nature of it can often make it harsh in youth. The 2013 Vietti Castiglione is soft and supple, with an incredibly floral nose but no shortage of fruit on the palate. As always with Vietti wines there is a subtle finesse that reveals itself with time. 
2011 Domaine Taupenot Merme Morey St Denis La Riotte £55 per bottle 
2011 was an awkward year in Burgundy which makes it a good vintage to seek out now. Prices are good value (for Burgundy) and those wines that have stood the test of time offer something a little different. The 2011 La Riotte has the usual concentration thanks to the old vines it is produced from but there is also a freshness and spice that set it apart.
2011 Donna Olimpia Millepassi Bolgheri £56 per bottle
Donna Olimpia was still in its infancy in the 2011 vintage but the progress in quality and elegance is very evident. A structured yet tannic wine to begin with it has now developed a little more harmony without losing its solid core. It would definitely be worth drinking soon.
2004 Chateau Giscours Margaux Troisieme Cru £72 per bottle
Good quality, mature claret from a vintage that tends to get overlooked. 2004 wasn't a spectacular year but it was still a good year that produced fruit driven wines with a good dose of acidity. The Giscours has remained fresh and vibrant. 
2006 Tenuta dell'Ornellaia Le Serre Nuove Bolgheri £75 per bottle 
The fruit that didn't make it into the production of Ornellaia goes into Le Serre Nuove. The grapes are hand harvested and quality is always high making it a good alternative to the more expensive Ornellaia. 2006 was an excellent year in Tuscany which has helped this wine to last longer than is customary.
1998 La Rioja Alta 904 Rioja Gran Reserva £110 per bottle
A Gran Reserva at its finest: masses of oak but not a hint of overblown vanilla, just the smooth, mouth coating elegance of a well-aged Rioja.