Tastes and fashions have changed considerably since the 19th century. Our penchant for sweet wines that were so revered 150 years ago has waned as has as our desire for the rich, heavy dishes that accompanied them. Gone are the days of foie gras and a glass of Yquem to start off your evening meal.

When Sauternes wines were at their most popular they were certainly viewed with more interest than most claret and Burgundy. But times have changed and sweet wines are now viewed as an occasional finale to a special dinner rather than an essential component to any good meal.

However, if you mention the name Sauternes to even the most determined of dry white wine drinkers they will likely know you are referring to a sweet wine. The cultural continuation of the word Sauternes is a testament to how popular and highly desired it was at the height of its fame. Although Sauternes refers to a region within Graves in Bordeaux there was a time when the name was a more general term for sweet wines of a style. Wine lists from as recently as the 1960's in the US still listed 'Sauterne (Domestic)' alongside Chateau d'Yquem.

There is always talk of a sweet wine resurgence that sadly never truly materialises. Wine lists remain conspicuously lacking in decent dessert wines even though the dessert list itself is fairly comprehensive. Yet despite this seeming lack of interest in sweet wines the wines produced in Sauternes have been increasing in quality rather than quietly surrendering to the loss of fame.

It is no secret that to produce a bottle of premier cru sauternes requires a great deal more care and attention than producing a Pomerol that sells for ten times the price. It is time consuming, arduous and risky: all Sauternes must be produced from overripe botrytized grapes, yields must be kept astonishingly low and the grapes harvested in tries (hand harvesting grapes in several sweeps to ensure only those grapes that are ready are picked).

Despite the high cost of production and the increased consistency in quality from this small appellation the price of Sauternes remains astonishingly low. That you can buy a 20 year old premier cru Sauternes from one of the top producers for under £50 beggars belief.

Ultimately the problem seems to be no one really knows what to do with Sauternes. Even those with a lifelong love affair with these wines are unlikely to drink them regularly. Yet there is such exceptional value to be found here that it is well worth our while learning to understand these wines again and finding a place for them in our drinking habits.

The misconception with Sauternes is that they have to accompany a heavy, rich dish preferably of the sweet variety. It is true that they match exceptionally well with foie gras and butter poached quince but they also sit quite happily with fresh fruit, cheese, and cured meats. If we shift the focus of our meals to the opening or latter courses and allow the wine to be the focus we can introduce top quality Sauternes that carry a great deal more complexity than a middling white burgundy.

Handily Sauternes is also one of the few wines that is widely available in half bottles. A sensible decision that encourages the notion that they are to be savoured in small doses but don't have to be reserved for when we have company. It also offers people the opportunity to try a variety of producers from both young and old vintages to see where individual preference lies. For some, the rich, heady scent of an aged Sauternes with its deep colour and unctuous texture will be just the ticket; for others, the lighter, fresher tones of a young Barsac with its honeyed fragrance, sweet fruit and subtle elegance will sit more comfortably. Vintages with less or more botrytis will also change the weight and sweetness of the wines: 2001 was a classic, heavy botrytis vintage whereas 2006 and 2010 were lower in botrytis and subsequently higher in acidity.

The beauty of it all is that, for a fraction of the cost of a top class burgundy or claret, you can enjoy getting to know some of the world's most complex and elegant white wines.

2010 Chateau Rieussec Sauternes Premier Cru £29 per half bottle
Owned by Barons de Rothschild, Rieussec has consistently produced high quality, rich and opulent Sauternes made from over 90% Semillon. The 2010 is sweet, floral, rich and succulent whilst also revealing layers of dried citrus and classic barley sugar.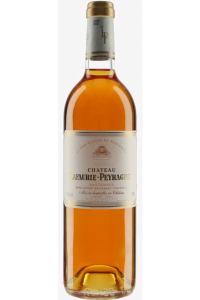 2001 Chateau Lafaurie Peyraguey Sauternes Premier Cru £46 per bottle
2001 was a great vintage for sweet Bordeaux and the Lafaurie Peyraguey is a fine example of how inexpensive Sauternes can be given the exceptional quality of the wine. It has turned a satisfyingly deep orange with a lovely weight and sweetness to match but still retains a freshness that keeps it clean. One of our regular Yquem customers stated this was the equal of any Yquem he'd had recently.
1996 Chateau Nairac Barsac £50 per bottle
With the wines matured in 100% new oak barrels, Nairac is all about the harmony between oak and fruit. This doesn't happen overnight so age is a vital component to understanding these Sauternes. The 1996 is at the peak of its drinking window and will offer a wonderful insight into the rich, bold and complex layers this chateau can produce.
2009 Chateau Climens Barsac Premier Cru £68 per bottle
Chateau Climens is next to Yquem in terms of complexity but it is difficult to compare the two. Barsac sweet wines are usually lighter in colour and weight with a brighter acidity that keeps them fresh. Climens is full and fat but never loses the acidity that keeps it fresh and balanced. The 2009 has started to settle with the colour taking on a gold hue and the soft, creamy botrytis fruit coming to the forefront.
Chateau d'Yquem
You can't escape the exceptional nature of Chateau d'Yquem. Although wine is subjective many will rightly argue Yquem is the best sweet white wine in the world and probably the best white wine in the world. Yquem is incredibly expensive to produce: the yields are so low that they effectively produce one glass of wine per vine. When you look at the average price per bottle there's no denying this is a labour of love. Whether you enjoy sweet wine or not, if you have an interest in wine and all its complexities and nuances you should try an Yquem. It is a masterclass in elegance, finesse, complexity and balance that continues to evolve with every sip.

1998 Chateau d'Yquem Sauternes Premier Cru Superieur £125 per half bottle
Not as sweet as some vintages but great energy and acidity that keeps it lively.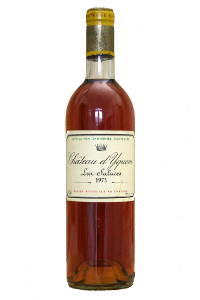 2001 Chateau d'Yquem Sauternes Premier Cru Superieur £230 per half bottle
2001 is one of the great vintages of Yquem and will last well beyond the next two decades. Rich and full with honey, ripe pear, marmalade, barley sugar and just a small note of savoury that provides balance. It is also incomparable when it comes to texture: smooth, silky and satin on the palate.
2006 Chateau d'Yquem Sauternes Premier Cru Superieur £185 per half bottle
The 2006 is sweet and full but with a lovely freshness and acidity that lifts it off the palate. Great texture and depth with a subtle elegance and purity of fruit.
1988 Chateau d'Yquem Sauternes Premier Cru Superieur £560 per bottle
Golden, honeyed orange colour with plenty of botrytis on the nose and palate. The 1998 vintage is sweet but with a wonderful simplicity that does little to diminish the enjoyment.