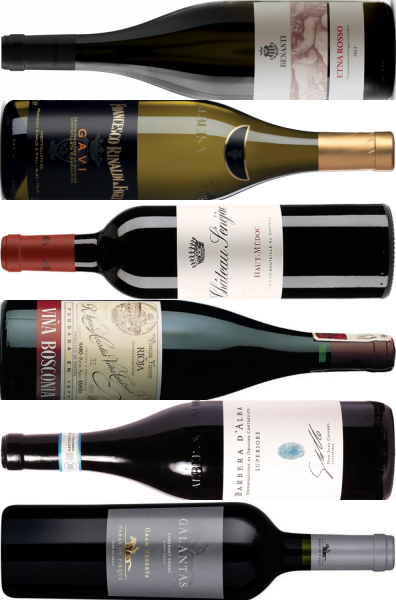 Autumn officially starts in September but we never feel quite ready for it until October. There's always that last glimmer of summer at the end of September that makes all the talk of Halloween and bonfire night a little premature.
October is here though and Autumn is well under way: colder weather; rain; blustery days; and a desire to stay in. There is also a gradual and natural shift towards meals that are warmer, heavier, and probably involve fewer pans, that encourages our wine choices to shift as well.
We have put together a mixed case of wines that compliment the changing season and hopefully brings something new to the table.

2018 Benanti Viticoltori Etna Rosso
We have been championing the red wines from Etna for some time now, not only for the value they offer but, also for the gap they fill. These are light, mineral wines that are soft enough to be enjoyed as an aperitif making them perfect for the last few sun filled evenings.
2019 Francesco Rinaldi & Figli Gavi
A white that goes with a myriad of dishes as well as being quite comfortable on its own.
2009 Lopez de Heredia Viña Bosconia Rioja Reserva
A good quality, aged Rioja is a thing of wonder and can also offer excellent value. Lopez de Heredia are hailed as one of the top producers in Rioja making wines that are classic and well-balanced. The Bosconia Rioja Reserva is one of their single vineyard wines made in a traditional style.
2015 Chateau Senejac Haut Medoc Cru Bourgeois
A classic, easy going Claret that has plenty of fruit but a nice solid core that makes it perfect for standing up to those heavier dishes.
2019 Gianluca Colombo Barbera d'Alba Superiore
A young, rising star in Piedmont, Colombo has been winning awards for his wines since he set up in 2011. The focus is on viticulture and low intervention winemaking which has created a very pure, clean and complex Barbera with a lovely hit of fruit.
2018 Vina Haras de Pirque Galantas Gran Reserva Cabernet Franc
A Chilean wine estate now owned and operated by Antinori (of Tignanello fame) Haras de Pirque are a good bridge between old and new world wines. The Galantas is a Cabernet Franc with a touch of Carmenere that has all the power and fruit one expects from a new world red yet has a softer, more classic rounded feel that brings it back down to earth.