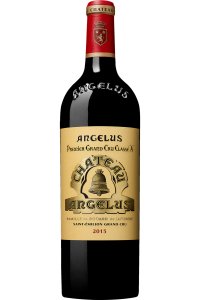 Achieving first growth status is the holy grail in Bordeaux so for two chateaux to achieve it in the same year is a rather astonishing feat. Especially as one has been the subject of a transatlantic war of words.
St Emilion developed its own classification system in the 1950's but, unlike the 1855 classification in the Médoc, it is revisited every ten years (roughly) to allow for movement both up and down the scale thus creating more transparency for consumers. For over 50 years just two chateaux had been classified in the top rating of Premier Grand Cru Classé A: Ausone and Cheval Blanc. But in 2012 many were shocked when Chateau Angélus and Chateau Pavie were both promoted into this inner circle. The stir it caused even led to legal proceedings questioning the judgement made.
Regardless of the legal battle, do these Chateaux belong at the top? With the increase in classification comes the increase in release price creating overnight exclusivity. But price is not the only measure of a wine. A more in depth look at these two producers and their history may help shed some light on whether the new classification they have been granted should encourage one to pay that bit more.
The Chateau has been in the de Boüard de Laforest family since the early 1900's when Comte Maurice de Boüard de Laforest inherited a vineyard from his aunt. He purchased some smaller plots from the surrounding area and changed the name to Chateau L'Angélus. The wine went through phases of high and low quality but was always of a traditional and rustic style that lacked true finesse. That was until 1980 when Hubert de Boüard de Laforest took over. He overhauled the winery installing new equipment and implemented modern wine making techniques as well as dropping the definitive article in the name (one of his many marketing tactics). The change in style and reputation did not happen overnight but the gradual improvement throughout the 80's was recognised and finally rewarded with a reclassification to Premier Grand Cru Classé B in 1996. Angélus came to be seen as a rising star in St Emilion during the 90's especially as prices were good value and the quality was high.
In 2012, just 16 years after its first promotion Chateau Angélus was granted Premier Grand Cru Classé A status. This seemed to set the ball rolling for an increase in prices and a tendency towards flashiness; the 2012 release came in a black bottle with a gold embossed label. But the judgement was called into question when legal proceedings began against Hubert de Boüard de Laforest claiming he influenced the INAO to make the decision to promote Angélus. The courts have yet to decide on this but it has certainly caused a stir and encouraged re-assessment of the wines quality. So what is the wine like? When it was first promoted to Premier Grand Cru Classé B in 1996 it had a reputation for an elegant but fruit driven claret with plenty of complexity. It was a classic St Emilion that benefited from a touch of modernity. There's an argument for saying that the modern has overtaken the classic in the last ten years but it does have a tendency to yo-yo on this depending on the vintage. Some, like the 2016 vintage are very fruit forward, whereas the more recent 2018 vintage seems to be holding back on the fruit and allowing the balance of oak and acidity to sit better.
This Chateau is the source of the war of words, or so the minor feud between American and British wine critics was called, over the 2003 vintage of Pavie.
To give context to this argument we must look at the Chateau's history. In the mid 19thcentury Ferdinand Bouffard set about purchasing the plots that now make up the Pavie vineyards. He gained a good reputation for the Chateau which subsequently passed onto Albert Porte and was then sold to the Valette family in 1943. The Valette's did a great deal for Pavie and continued to improve the reputation Bouffard had set for it. They made a good quality classic St Emilion and saw it gain Premier Grand Cru Classé status. In 1998 the Vallette's sold the well-reputed vineyard for a decent sum to Gérard Perse who began a process of heavy investment in the winemaking facilities as well as the vineyard itself by replanting various parcels of vines. Perse made his fortune in supermarkets and turned his hand to wine after investing in Chateau Monbousquet in St Emilion followed by Pavie and Pavie-Decesse. He has a tendency to dramatically cut the yields in his vineyards and as a consequence creates wines that are dramatically rich and fruit forward.
The British critics describe his wines as being over extracted and lacking in elegance. The Americans on the other hand view his wines as strong, powerful and full of fruit and texture. The 2003 vintage is the one that divided opinion with Jancis Robinson giving it a barely drinkable score and calling it "a ridiculous wine" whilst Robert Parker thought it "sublime". Interestingly and rather telling is that both British and American critics described it as Port like but one was in the negative and the other positive. A clear difference in what each looks for in a St Emilion.
For Chateau Pavie to be promoted to Premier Grand Cru Classé A status just fourteen years after Perse purchased the property is fairly astonishing but, for some, what is even more astonishing is that it was granted to a wine that has lost many of the classic St Emilion characteristics it once held.
Wines are evolving and wine styles are changing and the St Emilion classification system may well be changing alongside them. The 1855 classification has allowed for one new Grand Cru since its inception and that was a fairly slow and painful process. The benefit of revisiting the list every ten years is that it allows those changes to be absorbed or expelled as and when they happen. However, if it is to serve its purpose it should always be a measure of quality and consistency and there is definitely an argument to suggest that both Pavie and Angélus have not quite provided enough of that to warrant going up to the top. Whether you like their style of wine though is a completely different matter. For some the powerful, fruit forward style appeals and Pavie ticks those boxes. For others, a more classic style of St Emilion is preferable. Once again the subjectivity of wine should play the strongest role in whether a wine is worth its money.
A good example of the differences between the vintages from Angélus. The 2015 is big and bold but with elegance and finesse in a more classic style. It will need a good few years more before it can show its best though. The 2010 is a different beast with lots of very ripe fruit and very upfront.
2015 Chateau Angelus Saint Emilion Premier Grand Cru Classe A £380 per bottle
2010 Chateau Angelus Saint Emilion Premier Grand Cru Classe A £433 per bottle
Sadly we don't have any of the famous 2003 vintage, although perhaps we are better off avoiding such a contentious year. 2009 is another example of division though with a perfect 100 score from Parker and a lowly 15.5 from Jancis. 2012 was a difficult year throughout St Emilion but Pavie did a little better with the balance in this vintage.
2009 Chateau Pavie Saint Emilion Premier Grand Cru Classe A £408 per bottle
2012 Chateau Pavie Saint Emilion Premier Grand Cru Classe A £342 per bottle
And just in case you fancied a little comparison with the two long term greats of St Emilion, Ausone and Cheval Blanc.
2001 Chateau Ausone Saint Emilion Premier Grand Cru Classe A £667 per bottle
2009 Chateau Cheval Blanc Saint-Emilion Premier Grand Cru Classe A £800 per bottle