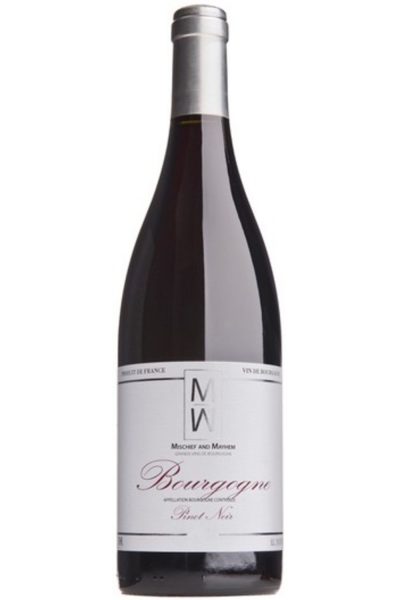 We like Burgundy. We like the incredible range it offers from so few grape varieties and the myriad of differences between the large number of producers working in the region. But, like many, we struggle with finding value. Good quality wines at reasonable prices do exist but they are difficult to track down. 
 
There is an element of sorting the wheat from the chaff but mostly it is about finding a producer whose style fits and where the quality is evident in the basic, village wines as well as the grand cru. Making a good Romanée Saint Vivant may not be as hard as making a simple yet interesting and affordable Bourgogne Pinot Noir. 
 
We were excited when we found Mischief and Mayhem because they ticked the box: the quality of their wines is consistent from the top to the bottom. And whilst we appreciate the grand and premier crus they make, we have a soft spot for their basic and village wines. 
 
Like many producers Mischief and Mayhem own plots of vines as well as buying grapes in from growers they have worked with closely for many vintages. They are meticulous in their production and follow a style that tends to be fairly traditional for the reds and more modern for the whites. 
 
The wines also follow the upward trajectory: they improve in finesse, complexity and structure with every step up but the quality and care remains throughout. This may seem an obvious point but it's not always the case for every producer. 
2017 Mischief and Mayhem Bourgogne Pinot Noir £18 per bottle
Basic red Burgundy in all its glory; old-fashioned, uncomplicated wine that wouldn't look out of place in a French brasserie circa 1983. The wine has an earthy character that enhances the fresh, bright fruit with a simplicity of flavour that satisfies rather than disappoints.

2016 Mischief and Mayhem Bourgogne Blanc £18 per bottle
2016 was a good year for white Burgundy and the quality of fruit is evident in this wine. Pure and defined with notes of citrus, a touch of minerality and a mild creamy finish.

2017 Mischief and Mayhem Cotes de Nuits Villages £28 per bottle
The Cotes de Nuits Villages is an excellent example of the winemaking skill that is evident at Mischeif and Mayhem and the value they offer. The wine has ripe, concentrated fruit that has retained good acidity keeping it bright and fresh. There is a complexity to the wine that creeps in gently but doesn't detract from the relaxed feel.
2018 Mischief and Mayhem Savigny-Les-Beaune Les Bas Liards £28 per bottle
Savigny is well known for offering up good quality village wines and the Les Bas Liards lieux-dit has well-established vines that offer good depth of flavour. Like the Cotes de Nuits this is a noticeable step up in complexity from the basic wines but is still refreshing, bright and relaxed.

2017 Mischief and Mayhem Aloxe-Corton Les Cailletes £52 per bottle
The small patch of vines this wine is produced from sits in front of the Domaine's home and winery making them likely the most looked after in the portfolio. We tasted this wine for the first time when we visited a few years ago and were very taken with the distinctive warm, spicy notes that help define the bright, cherry fruit.