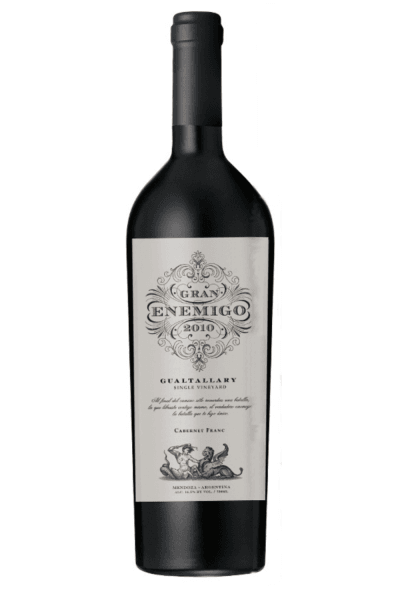 When new wines are released we find revisiting previous vintages and the predictions made at the time a valuable exercise. Particularly in vintages that were awkward or inconsistent. 
2013 was a year most have chosen to forget, in part because it was such a difficult year for the majority of French wine regions. But there were those in France that survived the bad conditions and many other parts of the world that enjoyed great success. 
For example, a relatively new collaboration in Mendoza saw its first 100 point score after near perfect growing conditions.
2013 Bodega Aleanna Gran Enemigo Gualtallary Cabernet Franc £175 per bottle
A collaboration between the winemaker and the daughter of Catena, head of Argentina's most acclaimed winery. The focus is on small production, single vineyard, high end wines made predominantly with Cabernet Franc. The Gualtallary is blended with a small amount of Malbec.
In Piedmont the conditions were less favourable but resulted in low yields and meticulous grape selection which produced some excellent wines.
2013 Luciano Sandrone Nebbiolo d'Alba Valmaggiore £42 per bottle
Sandrone is one of the most revered producers in Piedmont and his Nebbiolo d'Alba from 2013 offers complexity and depth in a fruity and refreshing style.
In the northern Rhône a warm summer proved very beneficial for Cornas and Côte Rôtie where the wines produced have shown great depth and longevity.
2013 Domaine Rene Rostaing La Landonne Cote Rotie £150 per bottle
A Côte Rôtie with a little more oomph than some may appreciate but it is a good example of a Rostaing La Landonne. The concentration of fruit is complementary of the pepper and spice rather than overpowering and the balance remains elegant and well structured.
For the most part, we've found the predictions made at the time of release have remained true, although there are exceptions.

Bordeaux really did suffer a poor year with low quality fruit and an early harvest due to rot. The resulting reds were light on fruit with low alcohol levels that led to rather washed out, insipid wines. Whilst some in Pomerol and St-Estephe were able to produce wines with a bit more flesh and structure they still lacked the necessary attributes for a long or even medium term life.

When the 2013 Burgundy En Primeur season started there was much talk about the vintage being a surprisingly exciting one. The weather had not been kind to Burgundy in 2013 with a slow arriving spring, hail storms and heavy rain in July and August making conditions very tough for the growers. But the wines produced were of good quality with fresh, light but ripe fruit. However, the acidity was high and there was some fear this wouldn't settle enough over time to allow the wines to really shine. We have found this to be a reasonable fear that was worth taking note of particularly at the medium to lower end of the market. Many of the simpler 2013 red burgundies we enjoyed a few years ago have been gradually fading and the balance lost.

The predictions for Italy are the ones to really take note of and have proved themselves to be accurate.

The 2013 Barolos are elegant, complex and still in their infancy. These are classic wines that have been built to last and will see another 15 years or more.
2013 Vietti Castiglione Barolo DOCG £52 per bottle
The grapes for this Barolo are sourced from across the Vietti estate and the wine is consistent in its quality. 2013 showcases the classic Nebbiolo character: fresh cherry fruit, powerful tannins, bright acidity and a fine earthy undertone.
2013 Francesco Rinaldi & Figli Barolo Cannubi £72 per bottle
The Cannubi vineyard is widely regarded as the best in Barolo and Rinaldi does a great job producing classic, elegant and complex wines that offer great value.
The Barbarescos have taken on that classic feminine quality so revered in these wines: light, elegant, with soft, perfumed fruit and tingling acidity.
2013 Produttori Del Barbaresco Barbaresco DOCG £34 per bottle
The basic Barbaresco from the Produttori cooperative is always a good snapshot of a vintage. The 2013 is bright and vibrant with racy acidity that doesn't quash the more delicate nuances.
2013 Produttori Del Barbaresco Pora Barbaresco Riserva DOCG £65 per bottle
The single vineyard wines across Barbaresco all offer something slightly different and tend to be better value than their Barolo counterparts. The Pora vineyard is known for early ripening fruit that produces some of the lighter wines in the region. The 2013 has fresh strawberry and cherry notes with a solid structure but nothing too powerful.
Tuscany found itself enjoying a mild summer that gave rise to a more traditional October harvest. The grapes were healthy, ripe and fresh and produced some excellent wines particularly in Burnello di Montalcino.
2013 Canalicchio di Sopra Brunello di Montalcino DOCG £72 per bottle
A Brunello that has benefited from a little age. The 2013 has softened but retained the powerful, concentrated structure that showed great promise when first released.
2013 was the year to look outside of France for top quality wines. Italy, Spain, Argentina and California all produced some great wines and made the most of the increased attention. Unfortunately this has made value a little harder to find.