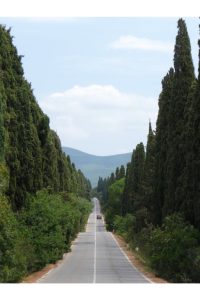 The birth of the 'Super Tuscan' is a heavily debated subject and one that is not nearly as interesting as the wines themselves. The wines were given the nickname as they fell outside the Italian classification system – made using non-indigenous grape varieties such as Cabernet Sauvignon, Cabernet Franc and Merlot they were experiments that gave rise to some of the most complex and revered wines in Italy. 

Marchese Mario Incisa della Rochetta began the trend by planting Cabernet Sauvignon on his Tenuta San Guido estate in Tuscany and releasing the first commercial bottling of Sassicaia in 1968. Piero Antinori followed suit by blending Cabernet Sauvignon with Sangiovese to produce the now infamous Tignanello. Not to be outdone by his brother, Ludovico Antinori soon followed with the first release of Ornellaia in 1985, a blend of Cabernet Sauvignon, Merlot and Cabernet Franc. 

These three wines have become the Super Tuscan aristocracy. 

Whilst all three are well known names, Sassicaia and Ornellaia are more regularly compared as they are located adjacent to each other in Bolgheri on the Tuscan coast. They have also chosen to focus on a full Bordeaux blend and avoid Sangiovese altogether. Although not uncommon in the region (Sangiovese doesn't fare as well in the maritime climate) the other producers in the area have not reached the level of fame enjoyed by these two wines. 

The wines similarities are extensive and their estates intertwined in family history (Ludovico is the nephew of Mario Incisa della Rochetta) but we wanted to take a closer look at their differences. The estates are different and offer two very distinct wines. 
Sassicaia
Sassicaia's fame is partly based on their trailblazing history and the myth of the original vines being given as a gift from Chateau Lafite Rothschild. But you are unlikely to maintain such fame and reputation on legend alone. Winemaking talent and terroir will have to play a part soon enough and the combination of the two has led to a large following. The estate has remained in the same family since its inception and the wine was eventually granted its own DOC classification in 1994.

What began as a cult following of wine buffs and critics has since grown into a more widely recognised name and a reputation for quality and elegance. The wine's quality can certainly not be argued against and neither can its elegance but it has a level of complexity and individuality that make it a less approachable wine. There are nuances and subtleties that can be difficult to decipher and are also susceptible to age. Sassicaia has been made to age in a way other Italian wines haven't and hitting that correct moment to drink it isn't easy. Especially given each vintage will vary in its development.

However, when you do hit the right moment the wine is everything it puts itself forward to be: elegant, refined, complex, nuanced, seductive and a true reflection of the terroir and history of the estate.
Ornellaia
Ornellaia was set up by Ludovico Antinori but has since changed hands. The estate is now owned outright by the Fresocobaldi family. There is a lot of gossip and speculation surrounding the change in ownership but again, this is far less interesting or gripping than the wine itself. It is also worth noting that the wine has remained consistent throughout the tumultuous ownership arguments which may in part be down to Michel Rolland and his wealth of winemaking experience being involved since the wines inception.

For many, the addition of Merlot is one of the main differences between Ornellaia and Sassicaia. But this is a fairly simple analysis that doesn't look further than the blend itself. Ornellaia certainly has a more open, fruit forward style that is incredibly appealing. But it is also the clever, thoughtful and careful winemaking that focuses on balance, elegance and purity that makes Ornellaia such a coveted wine. They have proven that their skill lies in the art of blending in good, average and difficult vintages. And this ability to adapt is what keeps the crowds coming back year after year.
Ornellaia is certainly a more approachable wine than Sassicaia in so much as it's more of an all rounder. It tends to be a crowd pleaser and consistent in style which allows for a more confident understanding of the wine. But this doesn't detract from its elegance and overall complexity.
Although the wines are very different both estates have remained faithful to their flagship wines which could well be why they are so highly regarded and are likely to remain so despite the strong competition around them.
Of the many vintages of both Sassicaia and Ornellaia we have in stock (see list below) these are the two I would recommend for drinking now. Both are from good vintages and really showcase the appeal of each wine.
2006 Tenuta San Guido Sassicaia Bolgheri DOC £350 per bottle 
This is one of the best vintages of Sassicaia from the last 20 years and one that has reached that perfect moment. It has enough age to have allowed the subtle aspects to come forward and the fruit and acidity to settle. 
2005 Ornellaia Bolgheri DOC £190 per bottle 
A great vintage that showcases the elegant side of Ornellaia as well as being mature enough to lose the dry, tannic tones that can sometimes hamper the subtle nuances of this Super Tuscan. Dark berry fruit with chocolate and coffee in all the right quantities as well as underlying earthy, herbal notes.