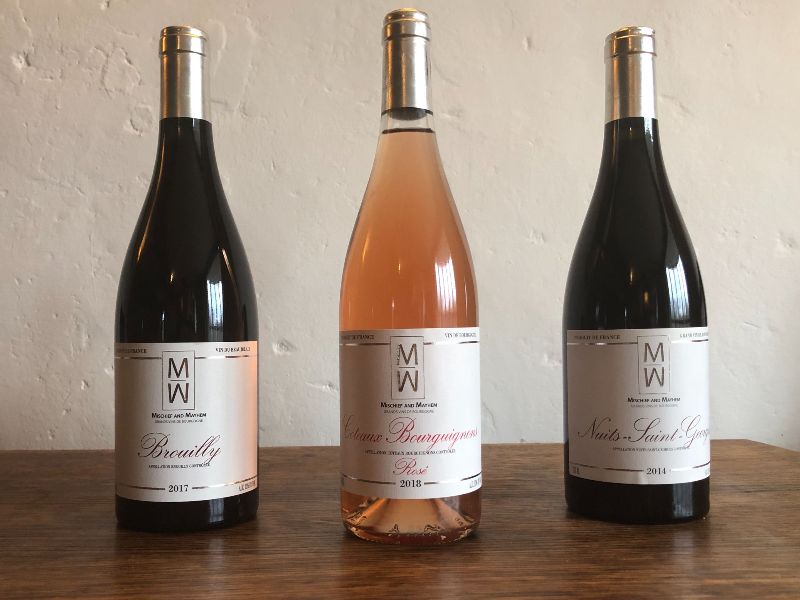 2017 Mischief and Mayhem Brouilly £18 per bottle 
As ever with Mischief and Mayhem they have taken a simple and sometimes average grape and created an interesting wine. The 2017 Brouilly has the sweet, heady notes of Gamay with black pepper, spice and a hint of underlying complexity that brings it all together. 
2018 Coteaux Bourguignons Rose £18 per bottle
Rosé is not usually something we stock, mostly because we have struggled to find one we like at the right price point. This offering from Mischief and Mayhem is made from Gamay and has the air of sometihng a little different. Bright in colour, full of clean, ripe fruit with a lovely refreshing core, yet the texture is creamy and smooth with a touch of sweetness that is very welcome. 
2014 Mischief and Mayhem Nuits-Saint-Georges £52 per bottle
Produced from old vines across several vineyards, the 2014 Nuits-Saint-Georges is elegant, structured and aromatic. It has a good hit of ripe berry fruit, is well-structured and has a lovely herbaceous quality that sets it apart. 
2019 Mischief and Mayhem Bourgogne Chardonnay £20 per bottle
Mischief and Mayhem's Bourgogne Chardonnay always sets the benchmark high for a supposedly simple wine. The 2019 is spot on with bright, racy acidity, clean fruit and a smooth, creamy texture. As well as a good price. 
2018 Mischief and Mayhem Chassagne-Montrachet Premier Cru Clos Saint-Jean £68 per bottle
High quality, Premier Cru Chassagne-Montrachet is not easy to find at a good price. The 2018 Clos Saint-Jean has all those layers a good Chassagne-Montrachet should have: stone fruit, lime, shortbread biscuit, honey and a good dose of minerality to keep it lively. 
2018 Mischief and Mayhem Savigny-Les-Beaune Les Bas Liards £28 per bottle
A firm favourite from the Mischief and Mayhem stable, this is a very well put together Savigny that really highlights the value for money this producer offers. Light and smooth on the palate with clean cherry fruit and a solid core.