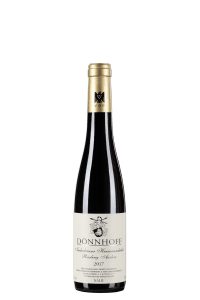 What to do with an Auslese Riesling? Is its only purpose as a dessert wine? What's all this talk of sweet wine with curry?
There are always trends in wine and food and luckily for Auslese Rieslings the trend is working in their favour. Cuisine from across Asia that encompasses spices and flavours that our taste for dry wines is struggling to work with has encouraged people to look to a more old fashioned palate.
Auslese is a German classification meaning special selection and these wines, to qualify for this category, must be late harvest grapes that have fully ripened. Most people think of Auslese Rieslings as being sweet, slightly botrytized wines that are heading towards dessert wine but with a little more acidity. This isn't far from the truth but the amount of residual sugar in each wine will be up to the producer as to when they cease fermentation. The higher the percentage of alcohol the lower the level of residual sugar in the wine.
But the other key to Auslese is its age. When young these specially selected, high quality grapes show a great balance of acidity and sweetness that can go well with savoury food as well as sweet. When left to age 10-15 years they become far richer whilst still retaining enough acidity to not become a true sticky dessert wine.
Styles of wine have also changed considerably over the last hundred years making Auslese shift its position in the German hierarchy. It was once viewed as the best example of the Riesling grape but that was when tastes were sweeter and dry wines were not viewed as refined. The move to drier styles of wine has shifted producers in this direction as well and many Auslese Rieslings are now made to retain the acidity that allows them to be approached younger and match better with savoury foods.
I wouldn't suggest having an Auslese Riesling with a light piece of fish but it would certainly go well with a rich, spicy Thai or Indian curry. The sweeter, botrytized versions are well designed for dessert but one shouldn't forget the cheese course. A nutty Comté will stand up to an aged, sweet Auslese.
The main reason to be in favour of this food and wine pairing trend is not because there is finally the perfect match for your Friday night curry but because these wines should not be overlooked. The sweeter style may seem outdated but it captures elements of the Riesling grape that the drier and very sweet styles don't. They aim to achieve a balance between sweetness and acidity that although niche has its place in the wine world.
2015 Joh. Jos. Prum Wehlener Sonnenuhr Riesling Auslese £38 per bottle
2013 Joh. Jos. Prum Himmelreich Riesling Auslese £33 per bottle
One of the many Prum's to be found in Germany but arguably one of the best. Both of these are good examples of young Ausleses with a good balance of acidity. I would argue that the 2013 is a better vintage but as it is a little older the sweeter elements will be starting to ramp up.
2013 Weingut Markus Molitor Wehlener Sonnenuhr Riesling Auslese £157 per bottle
This is definitely a wine to be taken seriously and is one you can keep for another 10 years or drink now. Although young(ish) and with plenty of acidity and fruit it is definitely on the sweeter side and should probably be saved for the cheese course.
2005 Weingut Donnhoff Niederhauser Hermannshohle Riesling Auslese Goldkapsel £49 per half bottle
The German's have a tendency to put as much information as they possibly can on their wine labels and the addition of Goldkapsel is a marker of a higher quality and in many cases a sweeter wine. This is definitely a sweet wine and contains botrytized grapes which provide notes of honey and raisin whilst retaining plenty of stone fruit flavours.