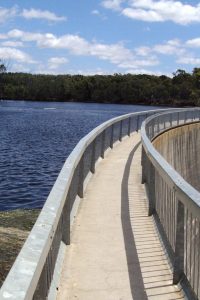 South Australia has the good, the bad, and the ugly when it comes to wine and if you're not careful you can easily find yourself drinking overpriced and average plonk. But it is also a place where serious winemakers have gone to make seriously top class wines. There are also plenty of them, so, instead of listing them all, we have put together our top four. All of whom offer exceptional quality and value.
Peter Lehmann has become a rather iconic figure in the Australian wine world. His loyalty to growers when larger vineyards were dropping them in favour of growing grapes in house meant Lehmann always had access to some of the best fruit in the region. Combined with his wine making expertise he consistently produced good quality wines that remained good value. Since his death in 2013 and the sudden death of his son and heir Doug Lehman in 2014 the company has been owned by Yellow Tail. Time will show whether this change in ownership affects the overall product but pre-2014 vintages still offer value and quality. The big Barossa Shiraz from the late 90's and early 2000's are perfect drinking now and tend to fall well under the price tag of some of the big players.
1996 Peter Lehman Stonewell Shiraz, Barossa Valley £70 per bottle
2008 Peter Lehman Stonewell Shiraz, Barossa Valley £61 per bottle
The 1990's were the turning point for D'Arenberg Wines and the vineyard has gone from strength to strength ever since. Located in Maclaren Vale they produce both red and white wines all of which have rather intriguing names. They keep things natural following organic and biodynamic principles as well as keeping some of their wines unfiltered and unfined.
Dead Arm Shiraz which is produced from nearly 100 year old vines has gained a loyal following and its ability to age will make it a worthwhile investment.  Both the 1999 and 2001 vintages were built to last and yet, seem to be better priced than some of the more recent vintages. Rich and intense they both offer up classic shiraz notes of liquorice, black pepper and cassis. With this amount of age they are also soft and smooth on the palate.
1999 d'Arenberg The Dead Arm Shiraz, McLaren Vale £73 per bottle
2001 d'Arenberg The Dead Arm Shiraz, McLaren Vale £75 per bottle
The Clare Valley has become synonymous in Australia with the Riesling grape and the producer showcasing it at its best is Jeffrey Grosset. His focus on producing high quality Rieslings that benefit from a touch of age has won him several prestigious awards from around the world. Despite the awards and praise the prices are still reasonable especially for the quality on offer.
The main bone of contention for people seems to be that they can't decide which of his Rieslings is the best. They all offer classic Riesling notes but, due to the differing soil they are grown in, the emphasis in each is different.
2015 Grosset Springvale Riesling, Clare Valley £36 per bottle
The Springvale Riesling is light, crisp and clean on the palate with floral and lemon notes. This can be approached younger than Polish Hill but will keep for several years to come.
2014 Grosset Polish Hill Riesling, Clare Valley £33 per bottle
Lots of minerality in this vintage but with plenty of herb notes to balance them out. The key to Polish Hill Riesling is age: you want to let the wine settle into itself and allow some of the acidity to soften.  This is just coming into drinking range.
Torbreck Estate was founded in 1994 but gained notoriety early on. It produces some of the most expensive wines in Australia but, also produces a fair few others that are affordable and certainly not lacking in quality. RunRig and the Descendant are the wines that make the headlines and dominate the high prices but, vintage dependant, they are not always unreasonable. Some of the more classic vintages that age quicker and are a little more mellow tend to go for less than the bigger, bolder vintages.
2006 Torbreck The Descendant Shiraz-Viognier, Barossa Valley £55 per bottle
The Steading is a Grenache, Mourvedre, Syrah blend that is rich and full bodied but can be approached younger than you'd expect. Just a few years in bottle and this wine starts to become velvety and smooth with a touch of acidity to see it through. Prices fluctuate depending on vintage and age but there is always value to be found.
2010 Torbreck The Steading Grenache Mourvedre Syrah, Barossa Valley £37 per bottle