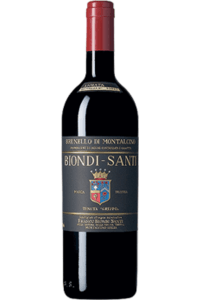 A classic Italian wine that has all the attributes one would expect from this part of the world – big, bold and comes with its very own scandal.
Brunello di Montalcino is made from a strain of Sangiovese that was a localised clone recognised as such in the late 1800's. It gained DOCG status in 1980 and has strict production guidelines: it must be made from 100% Sangiovese; the vines must grow on hillsides with good sun exposure at no higher than 600 metres altitude; the wines must be aged in oak for two years and spend at least 4 months in bottle before release.
This may all seem rather restrictive but there is a logical reason behind these rules. Brunello is a wine of immense stature but has the propensity to be undrinkable if made poorly. Montalcino is a hill town in Tuscany that can reach temperatures of up to 38 degrees in the summer, the Sangiovese grape absorbs all that sunshine and ripens to produce a thick skinned fruit that makes a wine heavy in tannins. The hillsides are necessary for providing drainage and the right amount of sun and heat; the need for barrel ageing as well as bottle ageing is to allow the tannins present to soften. If made well a good Brunello, after 10-15 years, will have all the fruit and complexity without the heavy tannins. If made poorly, the tannins will never fully soften and the wine will remain tough and dry on the palate.
And so we come to our scandal, Brunellogate. It was a scandal that involved wine makers, journalists, Italian police forces and prosecutors, and even the US government. Wonderfully dramatic press fodder that has now been (mostly) forgotten. Several prominent winemakers were accused of adding wine made from grapes other than Sangiovese to their Brunello DOCGs. The scandal erupted in 2008 but it was the 2003 vintage that was under the spotlight. Some of the top producers had their entire production of 2003 Brunello seized by the Guardia di Finanza (Italian finance police) to be analysed in order to verify whether wine blending had occurred. The fall out that followed was fairly spectacular with the US government declaring an import ban on all Brunello di Montalcino unless it could provide a government certificate that it was made from 100% Sangiovese.
The US government lifted these restrictions in 2009 and most of those indicted have been let off with a caution and several fines. Many of those wines seized were returned after analysis proved them to be 100% Sangiovese, but not all. Some, like Soldera, de-classified their wine from DOCG to basic Toscana IGT to avoid the restrictions.
The general thinking is that those who blended their Brunellos did so in order to make them more appealing to an international market, to make them approachable at a younger age and to mellow the harsh tannins that can be present when the wine is just a few years old. Since this episode producers and the governing bodies in the region have become far stricter in their approach and there is a sense that what happened was a lesson learnt and never to be repeated.
This is also a perfect opportunity for encouraging and promoting a better understanding of how a particular wine should be approached. Brunello di Montalcino deserves its reputation as a top Italian wine but should not be drunk before it is ready. By attempting to soften the wine with other grape varieties producers were effectively trying to appeal to those that are used to new world wines that are fruit forward and need no more than a couple of years in bottle before consuming. Brunello is a wine that has retained its traditional production and style: the first producer of note, Biondi Santi, declared just four vintages between 1888 and 1945 and aged each one in barrel for a decade before bottling. Modern winemaking techniques may have arrived but you cannot alter a grape variety and how it reacts to its specific environment. Patience and a nod to the classic style are needed when looking at Brunello Di Montalcino.
2003 Andrea Mantengoli La Serena Brunello di Montalcino DOCG £34 per bottle
One of our only bottles from the infamous 2003 vintage. Andrea Mantengoli wasn't involved in the scandal so this is a true Sangiovese with a decent amount of age.
2010 Biondi Santi Annata Brunello di Montalcino DOCG £117
The original Brunello master's name and expertise lives on through the estate and this is a true example of Brunello. No modern touches to lighten the tannins just good winemaking and a good understanding of how to work the wine into its best incarnation. Leave this for another couple of years or even 15 more.
2011 Tenuta Il Poggione Brunello di Montalcino DOCG £33 per bottle
A well-established estate that is known for its consistency throughout the vintages. Their wines have good structure with plenty of fruit that many argue can be approached younger than some. I would tread carefully on this point but the 2011 is opening about now.
2007 Valdicava Brunello di Montalcino DOCG £73 per bottle
Valdicava has gradually improved its reputation over the last 20 years and has become a firm favourite amongst certain critics. Like many it definitely performs better some years over others. 2007 was a good year that has given the wine plenty of density and power whislt also providing a good amount of fruit. It is also a good age for it and should be drinking well now.
2010 Conti Costanti Brunello di Montalcino DOCG £73 per bottle
Another producer of quality and consistency whose wines are built to last. The 2010 has plenty of fruit and good earthy tones that should be starting to emerge. It will last another decade.