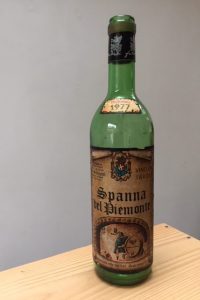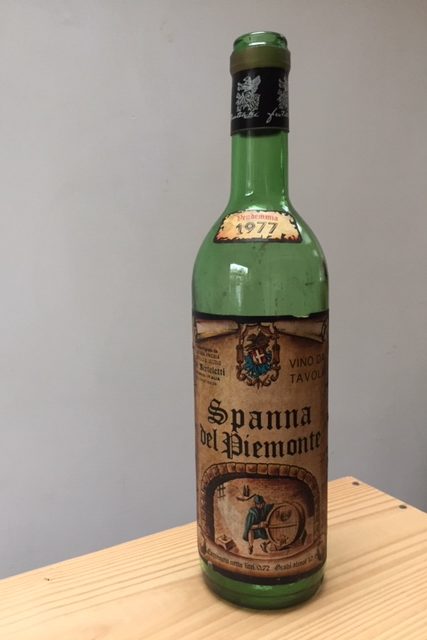 Opening a bottle of wine to discover it's too old, too young, faulty, or worse, just distinctly average, is fairly irritating. But it shouldn't put you off trying something new.
We like to experiment and take risks with wine, that's how we started out and we continue to open weird and wonderful bottles on an average evening. On other nights we play it safe with a well-regarded but averagely priced bottle. Whether taking a risk or playing it safe there is no guarantee that you are going to get what you expected though.
In a radical mid-week move we opened a bottle of 1977 Spanna del Piemonte which we had recently bought. Aside from having a rather satisfyingly old fashioned label and a fairly decent level for its age we were not holding out much hope of it being drinkable and so had a different bottle on standby. Spanna is the regional name given to Nebbiolo in the Alto Piemonte and, although no longer placed on the label, these wines are still made, with the DOCs of Gattinara, Ghemme and Lessona producing the best.
We expected this wine to have lost a fair amount of its fruit and for the colour to have seeped into a dusty brown but surprisingly it hadn't on both counts. The colour wasn't a vivid purple but had a nice deep ruby colour to it with the brown creeping in around the edges. The balance of fruit and acidity wasn't quite there and it had started to show signs of a port like richness but it was still discernible. By the second glass things had started to die a little and we were left with something a little too port like perhaps but it was fascinating all the same. For a forty two year old wine from a producers basic range it did pretty well to have any signs of life left, which tells us a lot about Nebbiolo. Grown in this part of the world it has good ageing capabilities and, if well-made (and possibly a little younger than ours) it can settle into a wine with plenty of depth and complexity.
Our 'safe' bet for the week turned out to be a dull, and very simplistic affair that left us feeling a little less positive towards its producer (luckily it is not one we stock). Pommard in Burgundy produces some very high quality Pinot Noirs that can be very elegant. But it can also offer value in the middle ground where good strong fruit and a little rusticity are well balanced. Unfortunately, we didn't find any of these attributes: thin and Ribena-like, there was no depth at all and any fruit that had been present had died by the second glass. For a 2015 this was a fairly spectacular fail.
Just down the road from Pommard is Volnay where silky, smooth and fragrant red burgundies can be found. There are some top names producing wines in this appellation and those that are well made can last many a decade. The difficulty with those that are over a certain age is making sure they have been well kept during that time. We came across a case of 1976 Louis Latour Volnay that had clearly not been kept in the perfect location (hence we have not listed it on our site): some bottles had seepage, others the cork had begun to come up and in one the cork had actually fallen into the bottle itself. Not ones to be deterred we persevered and were occasionally rewarded. One in three bottles was delicious: soft and velvety with enough fruit to compliment the varying layers of smoke and tobacco. One in three bottles was oxidised and the others had simply dried out and lost any vestiges of fruit. What a pleasure this case would have been if someone hadn't left it next to a radiator for a decade.
Not everyone will want to take such ludicrous risks on old wine. However, it is always worth experimenting as you never know what you might turn up. It doesn't always have to be age you experiment with but perhaps a different grape, style or region you've not ventured into before. Being disappointed by an averagely priced bottle from your local merchant is far less memorable or insightful than being disappointed by an unexpected bottle of something weird and wonderful.
So here is a selection of some of the many single bottles of not so run of the mill wines we have available. And with Christmas coming up this might be the perfect opportunity to bring something different to the table.
1986 Moet & Chandon £250 per bottle
An aged Champagne is something many are unlikely to have tasted before. The bubbles will have softened and the colour is likely to have turned to a biscuity brown but it will be soft and delicate on the palate.
1940s Antonio de la Riva Viejisimo Oloroso £95 per bottle
A 1940's bottling of a sherry whose grapes were likely to have grown sometime in the 19th century; this is nothing if not historic. Sherry has great ageing capabilities and this was a very well-regarded producer in its day.
Three distinct reds to suit a variety of palates:
2009 Donna Olimpia Millepassi Bolgheri £65
For those who like plenty of fruit and depth this is a lovely choice – meaty and dark with enough age to have allowed it to settle.
1982 Federico Paternina Gran Reserva £75 per bottle
Gran Reserva Rioja needs age and this definitely ticks that box. We tried it recently and it was delicious. Match with a solid dish as this will help balance the spirity tones and allow the fruit to emerge.
1975 Domaine de Chevalier £100 per bottle
A top producer in Graves and from a good vintage. In big years Chevaliers can be hefty and need a solid amount of time to settle. This will have all the classic attributes of a well aged Claret.
1996 Chateau d'Yquem Sauternes Premier Cru Superieur £220 per bottle
And of course, no Christmas is complete without a good sticky dessert wine to accompany the Christmas pudding. So here is the inimitable Yquem from a very good vintage.