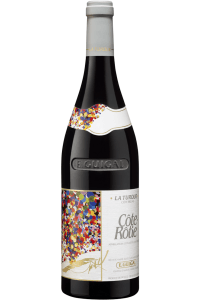 A description some may find odd as Syrah is known for its meaty, spicy red wines that can sometimes bowl you over with smoke and pepper. However, Côte Rôtie in the Northern Rhône produces a softer more delicate incarnation of Syrah with a perfumed and floral nose. Traditionally the difference has always been put down to the inclusion of a small percentage of the white wine grape Viognier which can be up to 20% of the blend. There are many that don't blend their wines though and 100% Syrah Côte Rôtie's are fairly common.
So perhaps it is the soil and the aspect that makes these wines differ so greatly. Côte Rôtie means "Roasted Slope" which becomes fairly self-explanatory once you've seen these gravity defying vines clinging to the side of a very steep hill most of which face south or south east. Overwhelming desire suffused with a touch of lunacy must be the motivators behind those that tend to these vines; "labour intensive" is a bit of an understatement for the work carried out there. But a vineyard with wonderful drainage in a highly fertile area that benefits from full sun and is located on the banks of a river that offers cooling winds can do that to people.
Guigal is one of the producers who clearly had the right combination of desire and lunacy back in the 1940's although the famous La-La wines were not produced until the 60's and 70's. They are also a good example of the use and non-use of Viognier: La Mouline and La Turque both blend a small percentage of Viognier whereas La Landonne is 100% Syrah.  The difference the Viognier makes to these wines is very evident in the final product. La Mouline (11% viognier) has the backbone structure of Syrah whilst still carrying an exotic and floral nose; La Turque (7% viognier) still has elements of the floral but is much darker and full bodied; and La Landonne is a well-structured powerful wine offering the much recognised characteristics of Syrah in the form of spice and black fruits, it also requires more age.
This explanation for differences is perhaps a little too simplistic for wine. The location of these vineyards is also an important factor and, yes, they are all from the same hillside but not the exact same spot. Côte Brune is located directly above the town of Ampuis with reddish, iron rich soils and Côte Blonde is next door but to the west of Ampuis and has light coloured, sand based, limestone soils.
Côte Rôtie is one of those perfect examples of why people talk about terroir. A little bit of trial and error has allowed producers here to know the style of Syrah that will be produced in each patch of land. The Côte Blonde (La Mouline) has a reputation for more elegant, and lightly balanced wines that can be approached young. Côte Brune wines (La Turque, La Landonne) are supposedly more powerful, tannic wines that need several years in bottle to settle into themselves.
The question is whether this delineation of style applies to those Côte Rôtie producers who are not Guigal. Invariably it does which is helpful as a consumer. But personally, we feel that the addition of Viognier has a greater impact on the wine than the patch of land it is grown on. Which is unfortunate as this is harder to determine than location as many labels do not list the grape blend.
It is also worth looking out for wines that are a blend of grapes from both Côte Blonde and Brune. These can be wonderfully balanced as they tend to offer elegance with a little more body.
2015 Pierre Gaillard Cote Rotie £42 per bottle
The addition of 10% Viognier has provided this wine with a light perfume on the nose and a lighter body. Earthy and silky on the palate the use of new oak can occasionally dominate.
2013 Domaine Rene Rostaing Cuvee Classique Cote Rotie Ampodium £35 per bottle
100% Syrah from a blend of grapes from the Côte Blonde and Landonne vineyards. The lack of Viognier makes this a bold, well-structured Syrah with lots of dark fruit and spice.
2015 Michel & Stephane Ogier Cote Rotie £63 per bottle
100% Syrah from a selection of vineyards from both the Blonde and the Brune as well as a few outer lying locations. This is an elegant wine with plenty of pepper and a lovely silky finish.
2010 E. Guigal Assortment: La Landonne – La Turque – La Mouline Cote Rotie
£1,299 for the set of 3
If you're feeling flush a Guigal tasting assortment would be the ultimate education in Côte Rôtie.