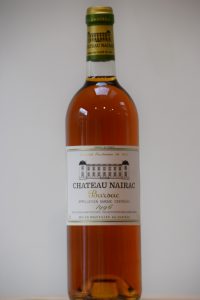 Growing up in a large wine drinking family I always presumed my approach to wine was perfectly normal. I realised its abnormality when I reached university and my peers were confused by my love of dessert wine (or pud wine as we've always referred to it).
Whenever we had a family celebration an uncle, parent or third cousin once removed would arrive with a bottle tucked under their arm and announce that this was the one, the ultimate pud wine that had to be tried. We would scramble around for something that would constitute a dessert and watch with baited breath as a sticky, amber coloured liquid was poured into our glasses and then sigh with delight at the first sip.
This heady introduction to sweet wine got me hooked and I have subsequently discovered that one doesn't need to scramble around to find a dessert to go with the wine or even have to wait until after the main course to appreciate it. If you're happy to have a glass of vermouth or a negroni as an aperitif then why not a 2001 Joh. Jos. Prum Wehlener Sonnenuhr Riesling Auslese. This particular vintage although sweet is incredibly fresh on the palette with plenty of acidity to cut through the sugar. It's certainly a more interesting and higher quality tipple than your average cocktail.
Or perhaps you just want to have something sweet but not too heavy after a good meal. For £17 you can have a half bottle of 1996 Chateau Rieussec Sauternes Premier Cru instead of raiding the chocolate stash.
Sauternes and Barsac botrytized wines are made from carefully curated, hand-picked grapes. They are notoriously labour intensive wines to produce and are only made when the conditions are just right. And they last forever (just). That you can buy a highly rated 1996 Chateau Nairac for just £50 a bottle makes you wonder why on earth people aren't drinking it more.
The joy of dessert wines is that they're, mostly, inexpensive for what they are and they needn't be reserved for special occasions.
1975 Tokaji Aszu 4 Puttonyos £150 per 50cl
I'm not sure you're going to find much stickier than this so a bit of bravery may be required.
1988 Chateau Coutet Barsac Premier Cru £23 per half bottle
One of the longest lived vintages from this decade with plenty of botrytis. This should be sweet and sticky but very elegant.
2005 Chateau Suduiraut Sauternes Premier Cru £20 half bottle
A great year in Sauternes from a great producer and at this price you can have it whenever the mood takes you.
2008 Klein Constantia Vin de Constance £153 per magnum
If you're having a large dinner party anytime soon a grand finale like this might make you the talk of the town.
2001 Chateau d'Yquem Sauternes Premier Cru Superior £267 per bottle
No list of sweet wines is complete without Yquem and this isn't cheap but, imagine what you would pay for a top Bordeaux in a top vintage with a bit of age behind it. Sweet wines are a steal in comparison.