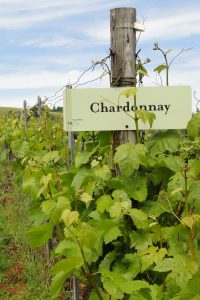 It's easy to be rude about Chardonnay. It's the grape variety people love to hate – the bad reputation it gained many moons ago thanks to cheap, over-oaked, synthetic tasting offerings make it an easy target.  But so many of those that say a blanket no to Chardonnay are quite happy to drink Blancs de Blancs Champagne and Chablis with gusto.
Chardonnay comes in many guises and where and how it is produced will dramatically affect the final product. Oak is key and it is not quite as simple as whether it is used or not; how much and in what form varies wildly and has a big impact on the final taste. For those of you who dislike oak, be warned, all of our recommendations are oaked but, we implore you to approach our thoughts on Chardonnay with an open mind.
Chablis is a great example of how Chardonnay can differ as a result of oak. Located in the northern reaches of the burgundy district its climate is much cooler and more uncertain than that of Chardonnays other home in the Cote d'Or. Chablis is seen as a traditionally crisp, clean white wine with high levels of acidity that can benefit from a small amount of oak. When over oaked the steely, acidic nature of Chardonnay grown in this area starts to wane and the unique character of the wine is lost. Most producers have finally settled on small levels of new oak that complement the steely nature of this particular Chardonnay. Wines at the top end of the market benefit from a bit of age but there is also plenty of Chablis out there that can be drunk young.
William Fevre is one of the larger quality producers in Chablis. The domaine has vineyards in four of the major Grand Crus and can boast some highly rated vintages across all of them. The praise is worthy though and a recent shift to five year old oak barrels has lessened the oak present in the wine and showcases the purity of the Chardonnay grape in Chablis.
A lovely example of a well-made Chablis that expresses all the right notes for this grape and region. It has had just enough time in bottle to be showing depth but has plenty of flint and acidity:
2014 Domaine William Fevre Valmur Chablis Grand Cru £112 per bottle
Chardonnays true home is, of course, the Cote de Beaune where new oak is never shied away from. The wines produced in this region from this grape are the most complex, long-lasting and highly praised white wines in the world. They are an acquired taste though. These wines can be so rich and complex that they are difficult to drink on their own and can overpower a number of foods making it understandable why many would be put off. Getting it right is paramount and drinking white burgundy of differing ages can make all the difference: Chardonnay grown in this region is a full, soft version of the grape that loves new oak and will gently meld with the flavours from the wood over time. The earlier you drink a bottle of white burgundy the less time the wine and oak will have had to settle into each other. Perfectly aged over the course of 10-15 years the wine will be displaying all the rich, buttery flavours any oak aficionado will love.
Being fans of white Burgundy we have a good supply. This Corton Charlemagne from Louis Jadot is a classic example of why Chardonnay and oak work so well together – smokey and rich with great depth whilst still retaining wonderful notes of lemon.
2005 Domaine des Heritiers Louis Jadot Corton-Charlemagne Grand Cru at £153 per bottle
Australia definitely contributed to Chardonnay's poor reputation with several producers going heavy on the oak to try to mimic the rich, buttery, vanilla flavours of white burgundy.  Some then went to the other extreme and started producing unoaked Chardonnays that were fairly harsh on the palate. Oak, although some dislike it, is a true friend of the Chardonnay grape, without which it can lack a necessary depth. And so the Australians have returned to oak but, like the Chablis producers, are careful with its use (at least the better class of producers are). Try 2013 Ten Minutes By Tractor McCutcheon Vineyard Chardonnay Mornington Peninsula at £72 per bottle
Surprisingly, Piedmont in Italy produces some great Chardonnays that are rich and full with a good acidity on the finish. Oak ageing isn't always put into practice and some of the younger, cheaper offerings are wonderfully tart as a result.
The oak aged wines from some of the bigger names have started to get a little more discovered recently so prices are on the rise but, keep an eye out for them as they are a lovely example of the Chardonnay grape.
2012 Gaja Rossj-Bass Chardonnay Langhe DOC £86 per bottle
Hemel-en-Aarde in the Western Cape of South Africa is a good place to find excellent value Chardonnay. A little bit of trial and error over the years has finally given way to well-balanced, creamy oaked Chardonnays as well as some clean, pure tasting unoaked variations.
This is the best balanced vintage from an excellent producer: 2012 Hamilton Russell Vineyards Chardonnay £32 per bottle
In all this talk of Chardonnay we haven't forgotten the top class wines produced in California. The trouble is so many of the best wines are kept for the American market and those that do get exported are either not worth talking about or far too expensive. Sadly the US wine drinkers are fully aware of the great wines they have on their doorstep and aren't that keen on sharing them!
Champagne on the other hand is widely available and heavy on the Chardonnay. Blancs de blancs Champagnes are made from 100% chardonnay and spend some time in new oak, a fact many of those who are anti-Chardonnay may not want to hear. What sets Chardonnay in Champagne apart is the cool sometimes harsh climate that makes the grapes take longer to ripen but gain a balance of richness and acidity not found in other parts of the world.
Blancs de Blancs is currently on trend so isn't always cheap but it has the potential to last a long time thanks to Chardonnays ageing capabilities. A few years in bottle is essential for getting a true picture of what this grape can do in this style.
2005 Taittinger Comtes de Champagne Blanc de Blancs Champagne £113 per bottle
The number of ABCs has decreased recently but hearing someone say "We'll have anything but Chardonnay.  How about this Chablis?" is still common.  Grape varieties produce different wines in different regions and, although there will be certain characteristics that remain, having an open mind often turns up very pleasant surprises. Chardonnay may be the greatest white grape variety and you never know what joys you may come across in something you expect not to like.